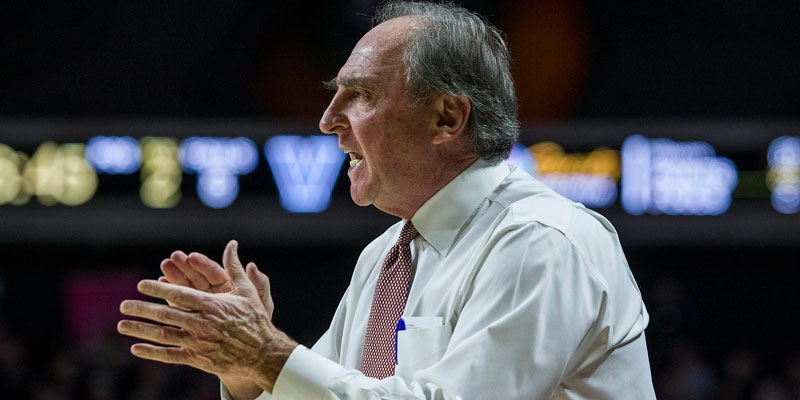 Temple University head men's basketball Coach Fran Dunphy will remain through the 2018-19 season, and current assistant coach and Temple alumnus Aaron McKie will succeed Dunphy in that role, Temple President Richard M. Englert and Director of Athletics Patrick Kraft announced today.
Dunphy has led the Owls since 2006, winning four conference championships and being named conference Coach of the Year four times during his tenure. He is a teacher on and off the court, having co-taught a business course for 10 years.
"There is no better illustration of excellence and integrity—and there's no better ambassador for Temple—than Fran Dunphy," Englert said. "Coach Dunphy's commitment to developing his players and to promoting academics, both among his student-athletes and our general student body, has rightfully made him one of the most admired men in college basketball."
McKie, a former NBA Sixth Man of the Year Award winner, former assistant coach with the Philadelphia 76ers and an assistant at Temple since 2014, has been promoted to associate head coach. A North Philadelphia native who grew up near Main Campus, McKie has an earned degree in social work from Temple.
Englert added that he and Board of Trustees Chair Patrick J. O'Connor decided on McKie succeeding Dunphy based on Kraft's recommendation. 
"Fran Dunphy is one of the greatest coaches in the history of Philadelphia college basketball and an icon in the world of college hoops," Kraft said. "The championships, NCAA Tournament appearances and personal accolades are tremendous, but what is more impressive is Fran's impact on the hundreds of student-athletes he has coached and the universities that have been positively enhanced by his presence. We look forward to a great 2018-19 season and will continue to do all that we can to support Fran and the team."  
Dunphy, who has led Temple to nine postseason appearances, including seven …