OSU News Feed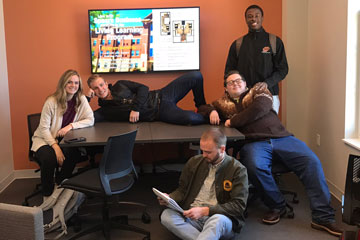 Oklahoma State University's new Business Building has endless noteworthy attributes,
but the one that really sticks out to MBA students is room 247 ‒ the Graduate Student
Lounge.
This lounge, exclusively available to Watson Graduate School of Management students,
provides a unique space to graduate students that wasn't available until the completion
of the new Business Building in the spring semester of 2018.   
"We had absolutely no space in Gundersen where the Watson Graduate School was previously
located," WGSM assistant director Kenneth Kern said. "The Business Building in and
of itself didn't really have anything more than a couple conference rooms that were
being utilized by faculty and staff, so students usually looked outside of the Spears
School of Business to find study space."
While there are dozens of other meeting rooms in the new Business Building, the need
to provide graduate students with their own flexible space was apparent.
MBA students often use the Graduate Student Lounge to study together."I think Vice Dean Dr. (Ramesh) Sharda and Dean (Ken) Eastman both had a keen interest
in situating a place in the new Business Building for graduate students because of
the meaningful nature of letting students know that we value you, we support your
duration of study while you're here and we value grad programs in general," Kern said.
Since the lounge has become available, students have been fully reaping its benefits
as the room is rarely vacant. Students use the room for everything from study sessions
to group meetings to a place to take a quick nap between classes. Many students use
the graduate student lounge every day.
"I use the grad lounge to study almost on a daily basis," said first-year MBA student
Austin Parsonage. "It has nice TV in there, so we can watch football when we need
a break."
The Graduate Student Lounge has …