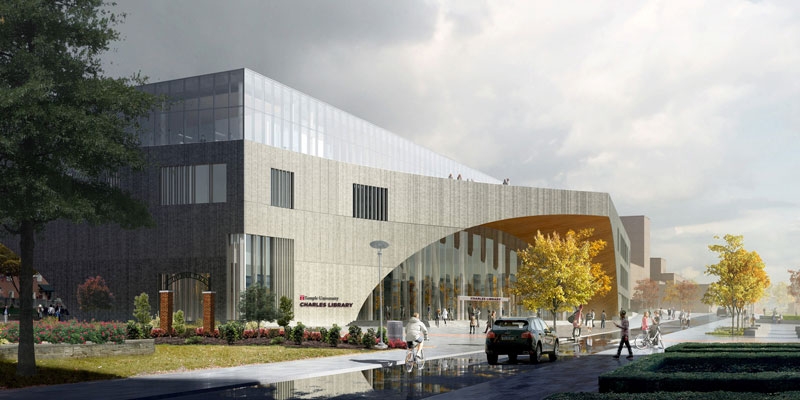 Temple's new library—which will become the stunning centerpiece of Main Campus—will be named Charles Library in recognition of a $10 million gift from entrepreneur and university trustee Steve Charles, KLN '80.
Charles's gift—one of the largest individual contributions in Temple history—will be invested into an endowment to provide perpetual funding for Temple Libraries to attract and retain high-quality faculty and staff; maintain and enhance Charles Library; promote community outreach, partnerships and public programs; purchase and preserve materials and collections; and support technology and innovation.
"Steve's gift is transformational in supporting Temple's goal of building a 21st century library that will redefine campus life, sustain Charles Library at its optimal level and care for all of the valuable resources it will provide," said Board of Trustees Chair Patrick J. O'Connor, who led the board in formally accepting the gift Tuesday.
There are natural alignments between Charles Library, a strikingly original structure designed by the world-class architectural firm Snøhetta, and the alumnus whose name it will carry. Upon transferring to Temple from Lancaster County, Charles graduated with a degree in advertising and co-founded immixGroup, Inc., which helps technology companies do business with the federal government. He sold the firm in 2015 but still serves as a consultant.
Charles Library, set to open in May 2019, will feature technology such as high-performance computation that supports advanced research. It will also include a space-saving automated book retrieval system that will store most of the library's volumes and create more space for collaboration.
Located at the intersection of Temple's two primary pedestrian pathways, Liacouras and Polett walks, the building will be the academic and social core of campus life.
"Charles Library will amplify our scholarly mission by attracting various intellectual communities to a bold new building full of flexible learning spaces that can respond to the needs …