News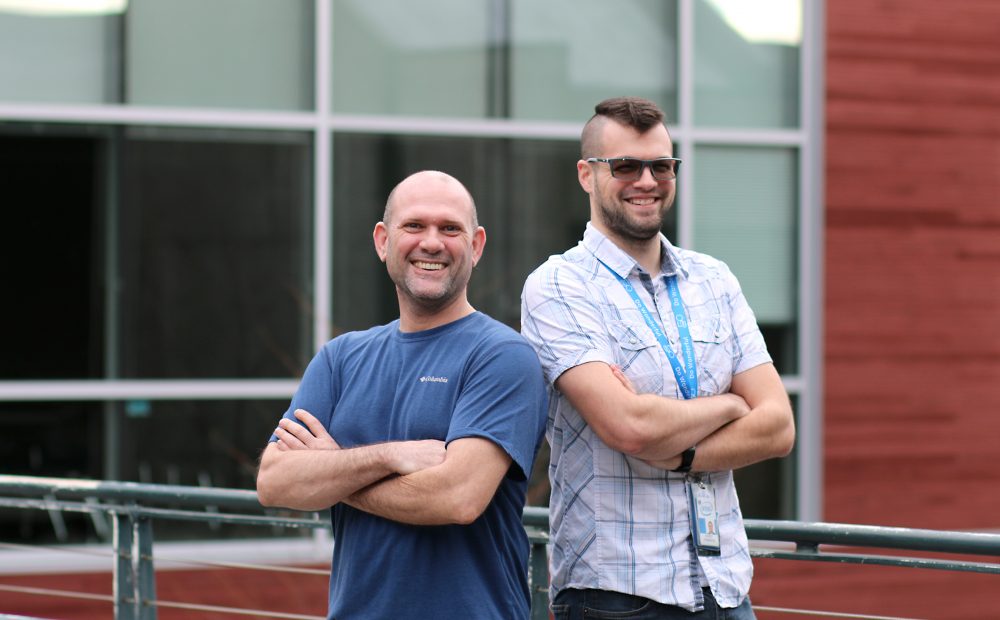 PCC / News / February 2019 /
Intel employees credit Electronic Engineering Program for electrifying their passions
Photos and Story by James Hill |
Left to right, Mike Campbell and Korey Theberge are proud PCC alumni.
Years ago, Mike Campbell left Texas for the blue skies of Alaska to be a fisherman. But a funny thing happened along the way: His car broke down on Interstate-5, near Wilsonville. Stuck in Portland, Campbell decided to stay and find work.
As luck would have it, he found a job as an industrial maintenance technician where he could apply his knack for fixing things after more than two decades working for a variety of companies, including PepsiCo.
"I wasn't planning to stop in Oregon, but here I am," he laughed.
Electronic Engineering Technology
The established program gives graduates skills to earn jobs or the foundation to pursue advanced degrees. Alumni can get upper-level positions as engineering managers and quality control technicians in some of the Northwest's most reputable firms like Intel or Biotronik.
The EET program and all its options have partial transferability to Oregon Institute of Technology and into many four-year programs.
Associate degrees in Biomedical; EET; Mechatronics, Automation and Robotics; Renewable Energy Systems; and Wireless Data Communications.
Short-term certificates in EET and Renewable Energy Systems.
Apply Today! »
For Campbell, life as an industrial tech was great until 2008, when he injured his back.
"It was a rough five years trying to strengthen my back and recuperate," admitted Campbell, who today is 25-percent disabled. "The three surgeries didn't work, and I decided to look to see what else I could do."
Living off of disability insurance payments, he needed to find a new career. Enter Portland Community College.
Campbell, a high school dropout, turned to PCC to earn his GED and take three remedial math courses to improve his placement into the college. When he …