Michigan Tech 'Latest News'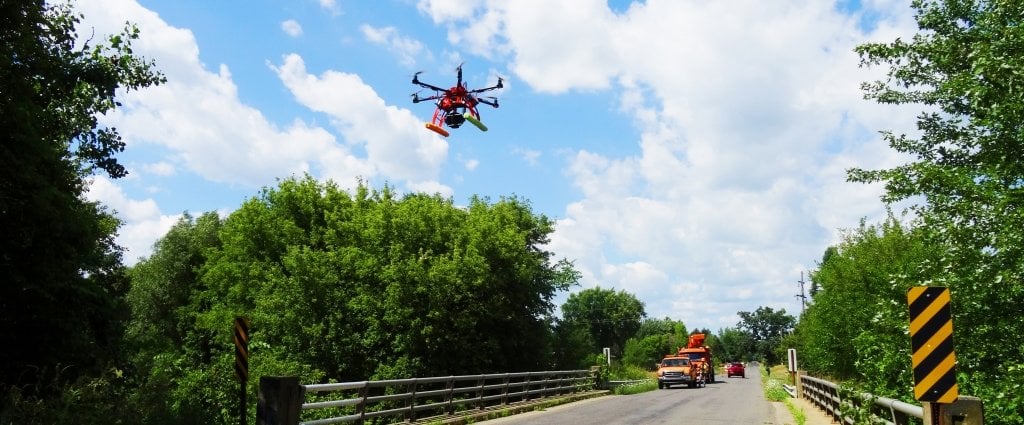 Drones make bridge inspections safer and easier to document. A complementary 3-D bridge
app developed by the Michigan Tech Research Institute also streamlines defect records.
Bridging basic and applied research is more than a metaphor. There are 612,677 bridges
in the U.S. and the annual Federal Highway Administration 2018 bridge deficiency report finds that more than 54,000 of them have at least one key element that is in poor
or worse condition. The state of Michigan ranks 16 nationally with 1,175 structurally
deficient bridges, about 10.5 percent, which sits above the national average.
The traditional way to document bridge defects is to send out a human in a hard hat
and vest, and write down — on paper — information such as the amount and locations
of problems such as cracks, spalls, and delaminations. Remote sensing experts at the
Michigan Tech Research Institute (MTRI), led by research scientist Colin Brooks, have
been updating the process, working with colleagues in Michigan Tech's Department of Civil and Environmental Engineering and Department of Geological and Mining Engineering. Brooks and his team use unmanned aerial systems (UAS or drones) to access hard-to-reach
locations, compile big datasets and explore defects in detail using a 3-D app. There is no replacing people in the assessment — human eyes and judgement are crucial
— but technology can speed up and make bridge inspections safer, helping set aside
more time and money to fix structurally deficient bridges.
"We need to know if we can get from point A to point B," Brooks said. "An important
component of mobility is being able to understand whether or not the transportation
system you're looking at can effectively move goods and people based on the condition
of the infrastructure."
The following images are examples of the photos Brooks and his team collect in their
research. 
3D BRIDGE App
Bridge inspections balance speed and precision. On one hand, they need …