Headlines RSS Feed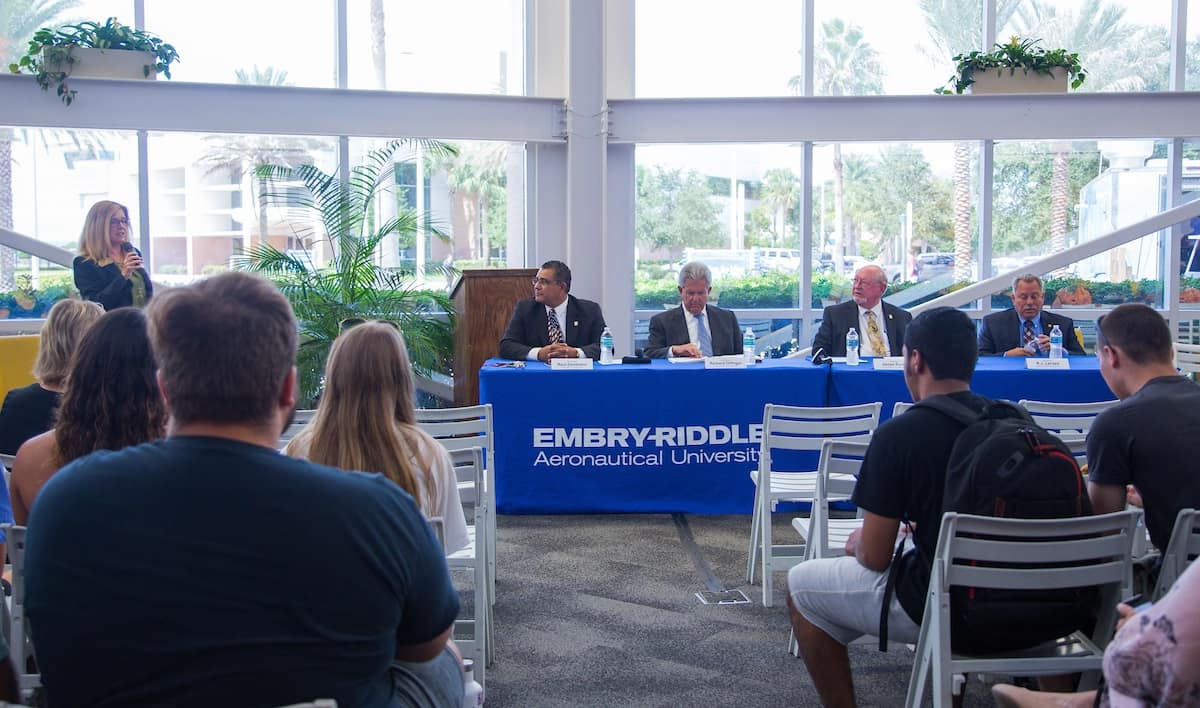 Hosted by Embry-Riddle, the event at the College of Aviation Atrium, included a panel that works every day to uphold the values of the Constitution. The panel included the Honorable Judge Richard Orfinger, appellate judge for the Fifth District Court of Appeal; the Honorable Judge Raul Zambrano, Chief Judge for the Seventh Judicial Circuit (an Embry-Riddle alumnus); the Honorable James Purdy, Public Defender for the Seventh Judicial Circuit, and the Honorable R. J. Larizza, State Attorney for the Seventh Judicial Circuit.
 "At a time when constitutional issues such as privacy, technology, border security, and presidential powers are in the news daily, it is more important than ever that we take the time to understand the Constitution," said Ann Phillips, JD, Embry-Riddle assistant professor for Security Studies and International Affairs, who will be the moderator. "The rights protected by our Constitution should not be forgotten."
Constitution Day is an American federal observance that recognizes the adoption of the United States Constitution and those who have become U.S. citizens. It is observed on September 17, the day in 1787 that delegates to the Constitutional Convention signed the document in Philadelphia.
The annual Embry-Riddle event brings a new awareness regarding the Constitution, Phillips added, and is a way to create conversations which last throughout the year.
As technology has evolved with cell phones, computers and social media so has the Fourth Amendment, area legal experts told students, staff and faculty who filled the atrium.
"The evolution of the law is catching up to the technology," Chief Judge Zambrano said. "Know what your rights are at the bare minimum. Most of us don't know what they are and freely give them away. The more we learn about our rights, the more protected all of us are."
State Attorney Larizza added that his job is to ensure law enforcement agencies are informed, educated and kept …