UMSL Daily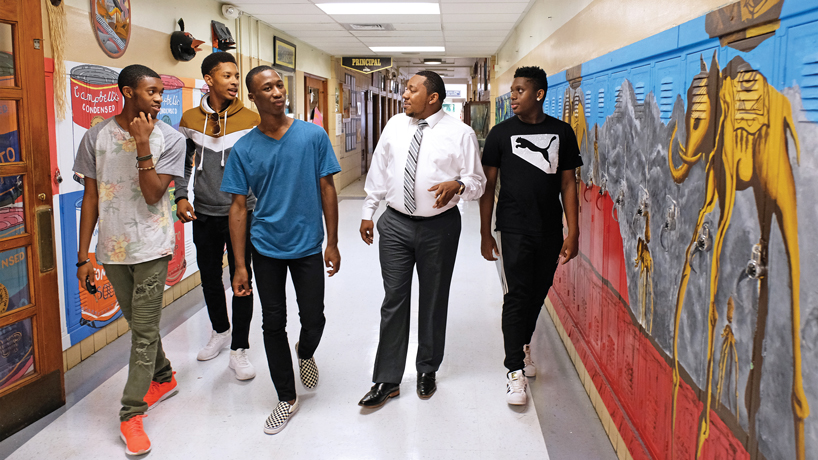 History teacher Kaylan Holloway, MEd 2016, walks down the hallway with some of the young men he mentors at Central Visual and Performing Arts High School. (Photos by August Jennewein)
Trace the etymology of the verb "to teach" to its Old English form "tæcan," meaning "to show, declare, warn, persuade," and it immediately becomes clear – there's more to teaching than imparting specific skill sets.
University of Missouri–St. Louis alumni Ana Barrios, Kaylan Holloway, Samantha Maxvill, Chinara Meeks and Michael Zitzer all shape their students' knowledge and understanding of the world. They guide students and challenge them. They encourage and support them. They show students the possibility their futures hold.
Only five of the more than 3,000 alumni to earn degrees and certificates from the College of Education since 2012, Barrios, Holloway, Maxvill, Meeks and Zitzer are among the many who stay in the St. Louis region.
They teach across a wide variety of age groups, subject areas and districts, but they all have a shared goal – inspiring students to think critically, act kindly and believe in their potential.
Kaylan Holloway, MEd secondary education 2016
Central Visual and Performing Arts High School, history
Holloway knows his Central Visual and Performing Arts High School students need him for more than just a history lesson.
"Sometimes I'm a chef, giving a hungry student a sandwich," Holloway says. "Sometimes I'm a father figure. Sometimes it's 11 p.m., and a student calls because he's about to make a stupid decision and just needs someone to talk to."
Holloway grew up in north St. Louis and attended Saint Louis Public Schools. He's familiar with some of the struggles his students face, which is why he requested Teach for America place him in SLPS while he earned his certification and master's degree at UMSL.
His approach to history focuses on a culturally …