Michigan Tech 'Latest News'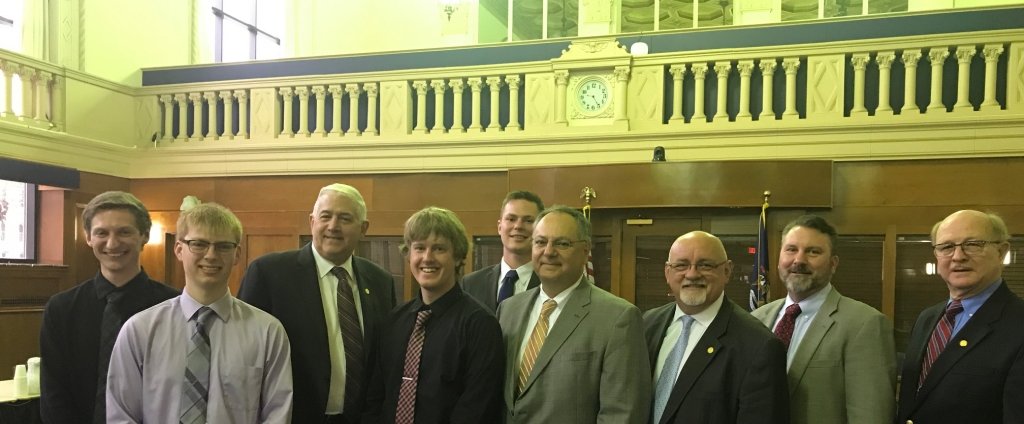 Hundreds of 2018 Michigan Technological University graduates started new jobs this
week. Four of them took a detour to the State Capitol to share their Senior Design
project—an underwater utility corridor spanning the Straits of Mackinac—with Michigan
lawmakers.
The corridor, a 21-foot-diameter, 4.5-mile tunnel that would house utility lines that
cross the Straits, was this year's senior capstone project for 13 civil engineering and three construction management graduates. The four students representing the group presented the project to the
state's 15-member Pipeline Safety Advisory Board at its quarterly meeting on Monday morning. They made a second presentation, to the
joint meeting of the Senate Committee on Transportation and the House Transportation
and Infrastructure Committee, at the Michigan State Capitol in Lansing on Tuesday
morning. Officials were impressed by both the concept and the students.
"I thought it important the Legislature hear that there are real alternatives for
spanning the Straits with the utilities that are critical to the well-being of the
Upper Peninsula—alternatives that are environmentally safe and may be economically
viable," said Senate Transportation Chair Tom Casperson, R-Escanaba, whose home district
encompasses the UP. "I was all the more eager that the Legislature be made aware of
these findings to showcase why Michigan Tech is renowned throughout the world for
the exceptional quality of the education it offers students—quality that was evident
to my colleagues through the detailed, thorough, thoughtful and articulate analysis
students presented."
Senator Ken Horn, R-Frankenmuth, transportation committee vice chair and acting chair
for Tuesday's session, said he's intrigued by the design concept. "Michigan is capable
of managing very big projects and our economic and environmental future looks bright
if this concept can become a reality. The students from Michigan Tech prove, once
again, that some of the world's smartest people are Michiganders."
Tech grads, with industry advisor Jim Morrison, present their findings at …