Michigan Tech 'Latest News'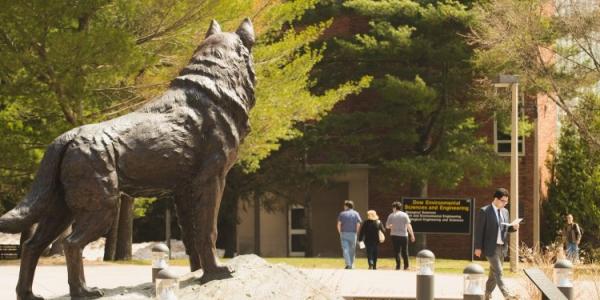 A persistent team of individuals had a dream: More Michigan Tech faculty from underrepresented
minorities, better retention of those faculty and something even more important—a
change to a more inclusive campus culture.
Original efforts began with former Provost Leslie Lovett-Doust and a team of faculty
who earned a $500,000 ADVANCE grant in 2008 from the National Science Foundation (NSF)
to develop a recruitment program that would attract more women to Michigan Tech. Now,
NSF has granted Michigan Tech Faculty Adrienne Minerick, Patricia Sotirin, Sonia Goltz,
Andrew Storer and Audrey Mayer $1 million to continue the work. The three-year grant
will focus on four initiatives:
ADVANCE Matrix Process for University Programs
Anita Quinn, a policy and planning analyst in the Provost's office, coordinated the many moving parts of the AMP-UP pilot, helping them work together
and keep moving steadily toward their goal.
"This is not just about high-level initiatives," says Quinn. "It includes work at
the ground-level, collecting and analyzing data and making sure that initiatives are
actually implemented."
The team created AMP-UP (ADVANCE Matrix Process for University Programs), a data-driven,
continuous improvement process to improve faculty retention, satisfaction and career
progress. AMP-UP addressed scholarship and research dynamics, unit climate and dual
career issues. A LEAN-inspired process, AMP-UP helped to design programs to intervene and correct issues
and added the framework for continuous improvement.
Adrienne Minerick, dean of the School of Technology, explains how the new ADVANCE grant will grow from the AMP-UP pilot and draw from
the strengths of other University programs.
Sonia Goltz, a professor of organizational behavior in Michigan Tech's School of Business and Economics, adds: "AMP-UP was instrumental to understanding key career obstacles on campus as
well as what programs could be used to address those problems. So, the three additional
programs that are being adapted from other institutions were chosen based on the AMP-UP
discussions that …