Michigan Tech 'Latest News'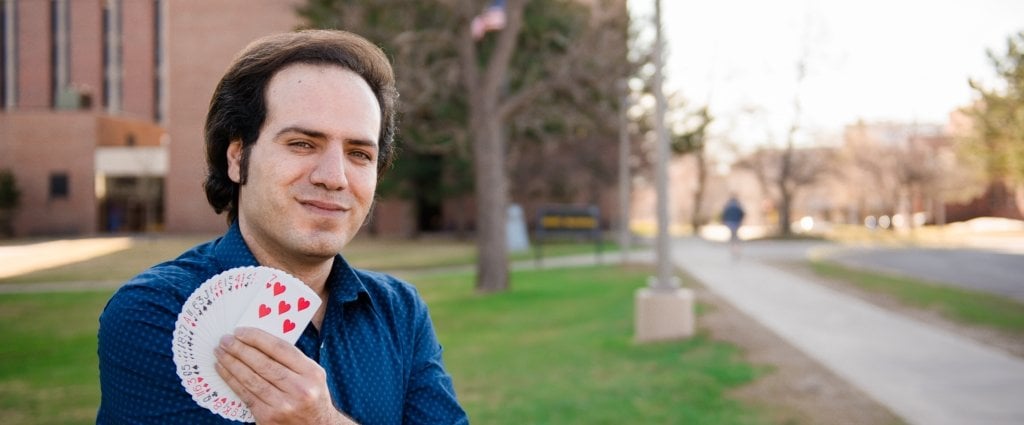 Saeed Jafari Kang performs research in fluid mechanics—and sleight-of-hand card tricks
to improve his English communication skills.
A PhD candidate in mechanical engineering at Michigan Technological University, Jafari Kang says his novel approach to language fluency originated in Reno, Nevada.
"Now it makes more sense, right, about the card tricks?" he asks, smiling. 
Actually, his motivation was less about living in a gaming-industry hub and more about
roommates who went to bed too early, says Jafari Kang, who works with Hassan Masoud, an assistant professor of mechanical engineering-engineering mechanics. Both came
to Michigan Tech in 2017 from the University of Nevada-Reno.
In Reno, with an Iranian advisor and Persian colleagues, there weren't opportunities
to speak English during the day, Jafari Kang explains. "I was in the office until
9 or 10 at night," he says. "Americans go to sleep very early—or at least my roommates
did. When I came home they were already asleep. I didn't get to watch movies with
them or talk to them."
Luckily for this eager conversationalist, there's never a lack of folks to hang out
with in a gambling town that never sleeps. But what to talk about? Jafari Kang chose
a deck of cards for an icebreaker; maybe because it conjured childhood memories of
the amateur magicians in his family. He remembers cousins who showed him a simple
trick with two matchsticks. "I went home mad because I couldn't figure it out," he
says. Turns out Jafari Kang's dad had practiced magic in his earlier days; he showed
his son how to do the match trick. "I practiced and picked it up and when I started
doing it for people they really loved it," he says. Another cousin showed the then-third-grader
how to open the combination locks on briefcases. "That was fun."
During his undergrad and master's studies, Jafari Kang put magic aside—until those
…