Michigan Tech 'Latest News'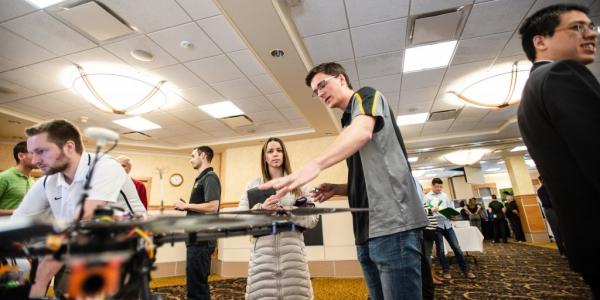 Student inventors, innovators and entrepreneurs inspire optimism for a better tomorrow
as they put their projects before judges and the public on Thursday, April 18.
What do a full-flexion knee implant, a backpack-able power system, and an elevator
— for a bird-watching tower — all have in common? They're life-improving solutions
among the more than 100 real-world undergraduate student projects that will be showcased at the 19th annual Design Expo at Michigan Technological University.
All are welcome to the event, which is free, and runs from 8 a.m. to 4 p.m. Thursday
in the Memorial Union Ballroom on the Michigan Tech campus.
Student Innovation in Action
Huskies enrolled in Michigan Tech's Enterprise and Senior Design programs take great pride in presenting their projects, which this year include a
low-cost vaccine fridge to provide access to important health initiatives in the developing
world; ultra-strong aluminum scandium alloys to improve the tensile strength and physical
properties of products; a 1,000-miles-per-gallon competition vehicle; and a DIY climate
sensor. 
The Formula SAE Enterprise has a long history of top-performing cars in International
Society of Automotive Engineers Collegiate Design competitions. (Photo credit: Formula
SAE Enterprise)  
Projects, posters, and presentations are judged throughout the day by a panel made up of corporate representatives, invited
guests, university faculty, staff, and graduate students. Enterprise team presentations,
each 15 minutes in length, are also open to the public, and take place in The Alley Makerspace, also in the Memorial Union Building.
A Big Day for Industry Sponsors, Too
More than 120 sponsors and partners support student teams. And Design Expo itself is supported by industry and university
sponsorship. ITC Holdings is directing partner for the eighth consecutive year and
collaborating partners include Code Blue; Innovation Center for Entrepreneurship at Michigan Tech's Pavlis Honors College; Miller Electric Manufacturing Company; Nexteer; and Nucor. Innovating partners are
Challenge Manufacturing and Kimberly-Clark.  
 Curious about a device, process or …