OSU News Feed –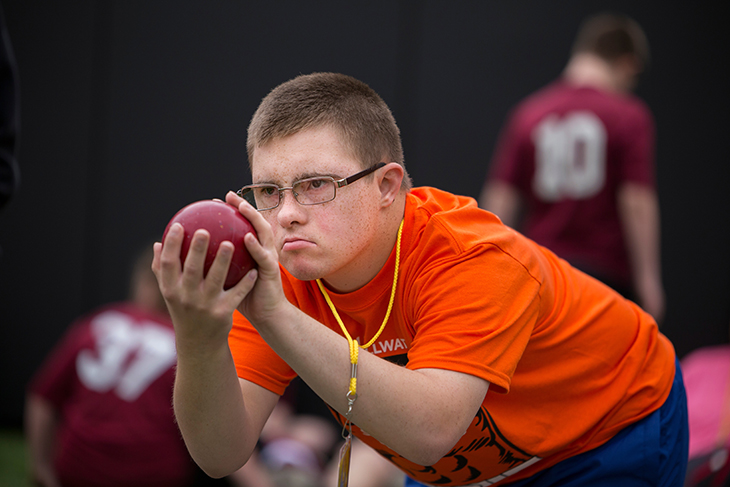 For Matt Sitton, competing in Special Olympics Oklahoma's Summer Games on Oklahoma
State University's Stillwater campus is more than a fun and friendly series of competitions,
he and his extended OSU family have seen to that.
"I like bocce ball best because I get to [compete] by myself and then with my peer
partner Braden," he said. "Also, I get to see all my friends I've made through Special
Olympics. I look forward to it all year. We have fun down here on the field where
the football team plays."
The lure of being on the field at Boone Pickens Stadium is a mighty pull for Matt,
who describes himself as a big fan of Cowboys sports, and not just the football team.
His peer partner Braden Young is the 14-year-old son of Chris Young, head coach of
the OSU women's tennis team.
"I signed up for the Peer Partner Program at the start of the year at my junior high,"
Braden said. "The first day I met Matt we had so much in common, starting with our
OSU-related interests. Matt and I connected right off and have become very good friends.
I highly recommend getting involved with Special Olympics, at every level. It's a
fun way to really make a difference."
Special Olympics Oklahoma is a year-round program of sports training and athletic
competition for children and adults with intellectual disabilities. More than 11,600
participants take part in more than 140 sports competitions and training clinic opportunities
every year. In his dual role as partner and coach, Braden's involvement goes beyond
the purely physical competitions and training.
"We use sports to teach healthy living concepts and help Special Olympians to develop
skills useful in going about their day-to-day activities," Braden said. "There are
little moments and big moments, and sometimes you think it is one …