OSU News Feed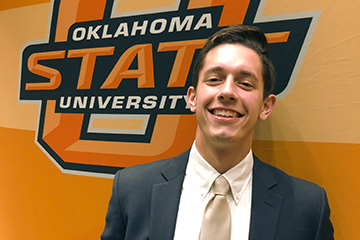 Steven Vekony, a second-semester MBA student, walks into his Business Finance class
on a normal Thursday morning dressed in a white, starched button-up shirt, a noticeably
flashy belt buckle and orange and black cowboy boots. He is toting with him a bag
large enough to carry a body, a large dog or perhaps the head of Pistol Pete.
No one in the room gives him a second look. Rather, he's greeted by his classmates
with comments about the upcoming finance quiz or the Oklahoma City Thunder. This is
just another day in the life of Pistol Pete, who also happens to be one of the Watson
Graduate School of Management's MBA students.
"There's a lot of times where I have to wear the Pete stuff to class," Vekony said.
"Basically, I get up, go to class and wear the jeans and boots. There's been several
times where I have to change in the CAGLE lounge (inside the new Business Building)
for an event on the South Engineering lawn right across the street."
Pistol Pete, in this case Steven Vekony, entertains the crowd during an OSU Cowboys
football game at Boone Pickens Stadium.
Vekony's role as Pete may have played a part in his decision to pursue an MBA at Oklahoma
State University. Coming from an agricultural background, it wasn't until he started
making appearances as Pete that he began networking with people in various business
fields, and he began to see an MBA as the next step in his career path. 
"I had never really had any connections outside of agriculture because all my connections
were through FFA, but once I started meeting people and doing appearances as Pete,
that shifted, and I was interested in business a lot more than I had been," he said.
"The Spears School of Business has a very …