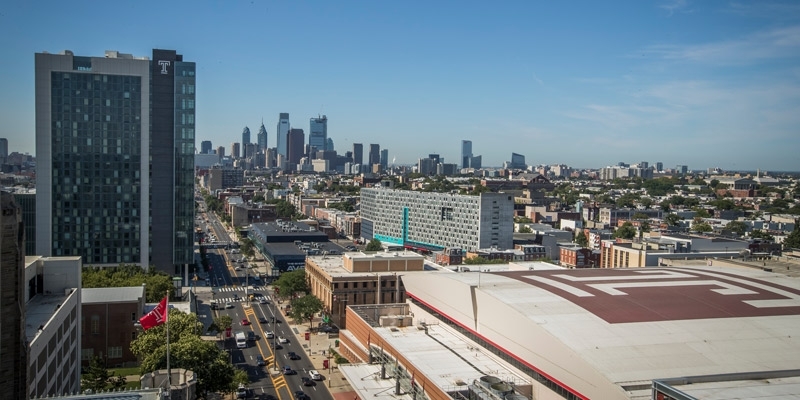 Temple University has jumped three spots in U.S. News and World Report's Best Colleges, the annual ranking of undergraduate programs across the nation.
In the 2018 edition of Best Colleges released on Tuesday, Sept. 12, Temple earned a rank of No. 115 among national universities, equaling a record high established two years ago. Temple has climbed 17 spots in the rankings since the 2012 edition was published, making Temple one of the nation's top gainers (only 14 national universities have made bigger jumps during that time period). Among public universities, Temple moved up three spots to No. 53, an all-time high.
Temple also earned a No. 92 national rank in "Best Value Schools," a ranking appearing in Best Colleges for the first time this year. Temple's "Best Value Schools" rank puts the university above prestigious national public institutions such as California–Berkeley and Georgia Tech, as well as high-profile regional public institutions, including Penn State, Rutgers and Maryland–College Park. The metric that U.S. News weights the most in "Best Value Schools" is a combination of a school's academic quality and the net cost of attendance for a student receiving the average level of financial aid—the higher a university's quality and the lower its cost, the better the value.
We are especially pleased that U.S. News is recognizing Temple's powerful combination of academic excellence and affordability—a value proposition that is central to our mission."
— Richard M. Englert, president
"What makes Temple's rise in national rankings so gratifying is that it's a validation of what the Temple community experiences every day: our unprecedented momentum as an institution," said Temple President Richard M. Englert. "We are especially pleased that U.S. News is recognizing Temple's powerful combination of academic excellence and affordability—a value proposition that is central to our mission."
The 2018 edition of U. …