OSU News Feed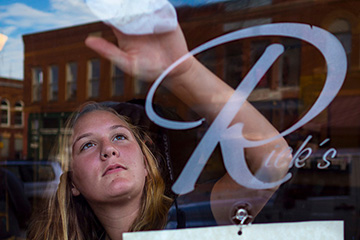 Oklahoma State University Division of Agricultural Sciences and Natural Resources
experts identified two multicounty regions in the state for participation in CREATE
BRIDGES, a program designed to build up rural economies.
The Sandstone Hills region includes Creek, Osage and Pawnee counties, while the Crossing
Borders region is made up of Adair, Cherokee, Delaware, Mayes and Sequoyah counties.
CREATE BRIDGES was established with the help of a $2.7 million grant from Walmart
to the Southern Rural Development Center, and launched on August 30 in Oklahoma, Kentucky
and Arkansas.
As part of this innovative initiative, researchers from OSU, the University of Kentucky
and the University of Arkansas System will collaborate to develop, refine and pilot
a process to help rural communities build their capacity for strengthening the retail,
tourism and entertainment sectors, which provide jobs and business opportunities that
frequently boost rural economies.
The program also will look at workforce solutions to retain workers and promote from
within.
"The Sandstone Hills region was chosen for CREATE BRIDGES, in part, because it currently
hosts several collaborative, grassroots, locally driven efforts such as the 100 Mile
Yard Sale," said Dave Shideler, OSU Cooperative Extension community development specialist.
"There is a clear desire in the Sandstone Hills region to grow tourism opportunities
by capitalizing on some natural resources and the cultural heritage of the three Sovereign
Nations in the area," Shideler said. "CREATE BRIDGES will assist the region in developing
a framework for accomplishing that vision."
Meanwhile, the Crossing Borders region has worked together previously through the
Stronger Economies Together program, a rural economic development initiative on which
CREATE BRIDGES is based.
"The Crossing Borders region wants to develop a plan to promote the Cherokee Hills
Scenic Byway that connects its lakes, rivers and wooded areas," Shideler said. "The
application was submitted by the Cherokee Nation, which will be a strong and effective
partner in this region."
Generally, …